John McKee was a promising young baseball player from Southern California who, in his senior year at Redlands Valley High School, signed to play at the University of San Francisco for the 2017 season. After a season at USF, however, he left. He wasn't hitting. He transferred to San Bernardino College the next season but did no better. He dropped out of baseball completely. Untethered and unsure, he joined the Navy hoping to train in Special Forces. He felt grounded again for eight months until he was asked to take a color blind test. It turned out McKee was color blind. He had to leave the Navy too.
The Difficulties of Color Blindness
Color blindness is a trait shared by 1 in 12 men (8%) and 1 in 200 women (.05%). What do color blind people see? While people with normal color vision see over one million hues and shades of color, someone who is color deficient sees only about 10% of those colors. McKee is red green color blind, so the baseball's red seams look similar to its dirt-rubbed brown hue. This meant he had trouble picking up and gauging the spin rate and direction of the ball, a necessity for hitters at the college level and beyond. When McKee moved from sunny California to San Francisco, the city's often overcast gray days made seeing the red seams, and correspondingly hitting well, nearly impossible.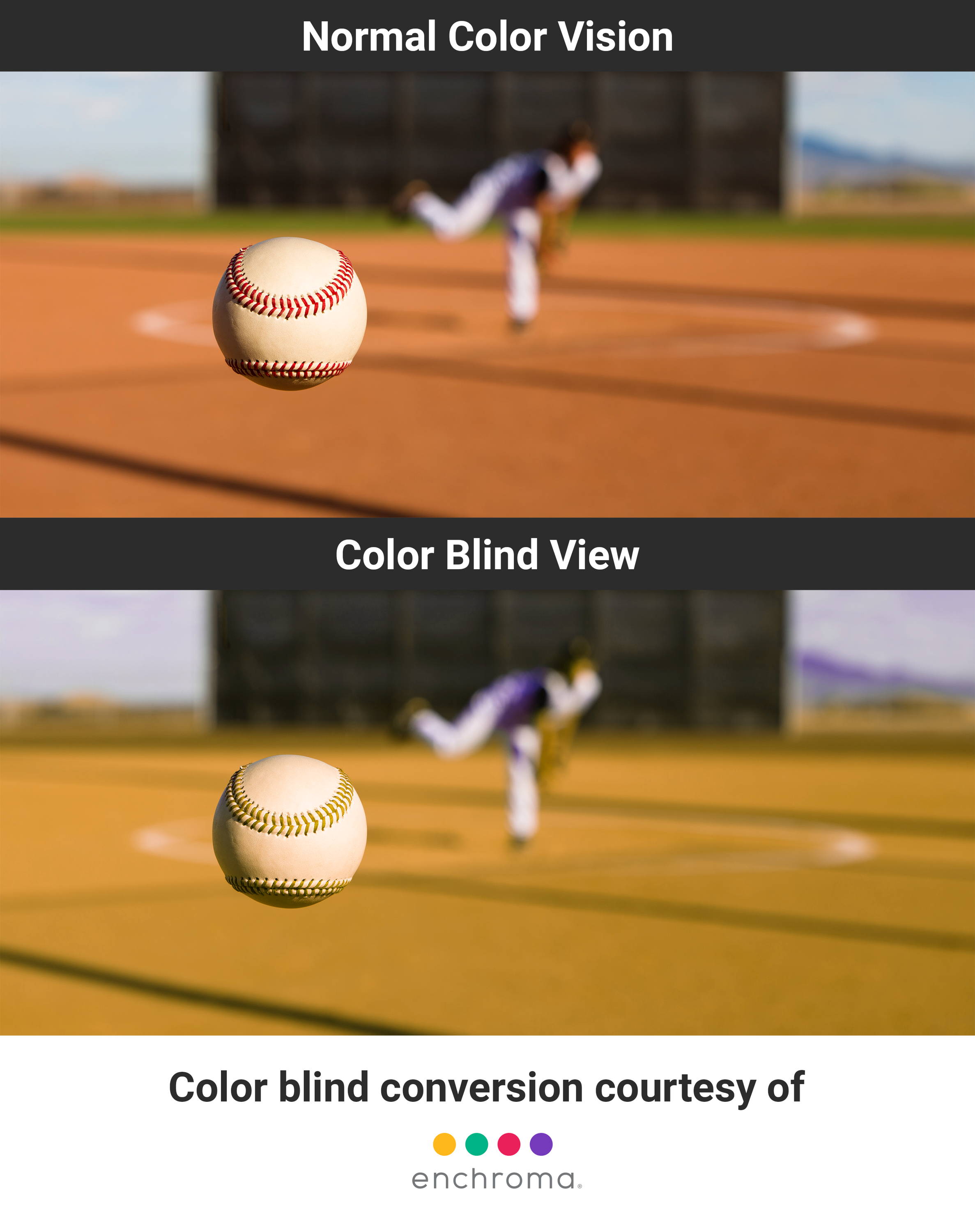 There are two types of red green color blindness, deuteranopia and protanopia. Jeremy Wolf, a color blind player formerly in the New York Mets' organization, and Co-Founder & Director of Outreach of MoreThanBaseball.org, which works to support baseball players, described the challenge color blind players face this way:
"Some guys vow they look for the red stitching on the baseball when they're hitting, but for us color blind players it's hard for our eyes to pick up the color and also get ready to hit at the same time."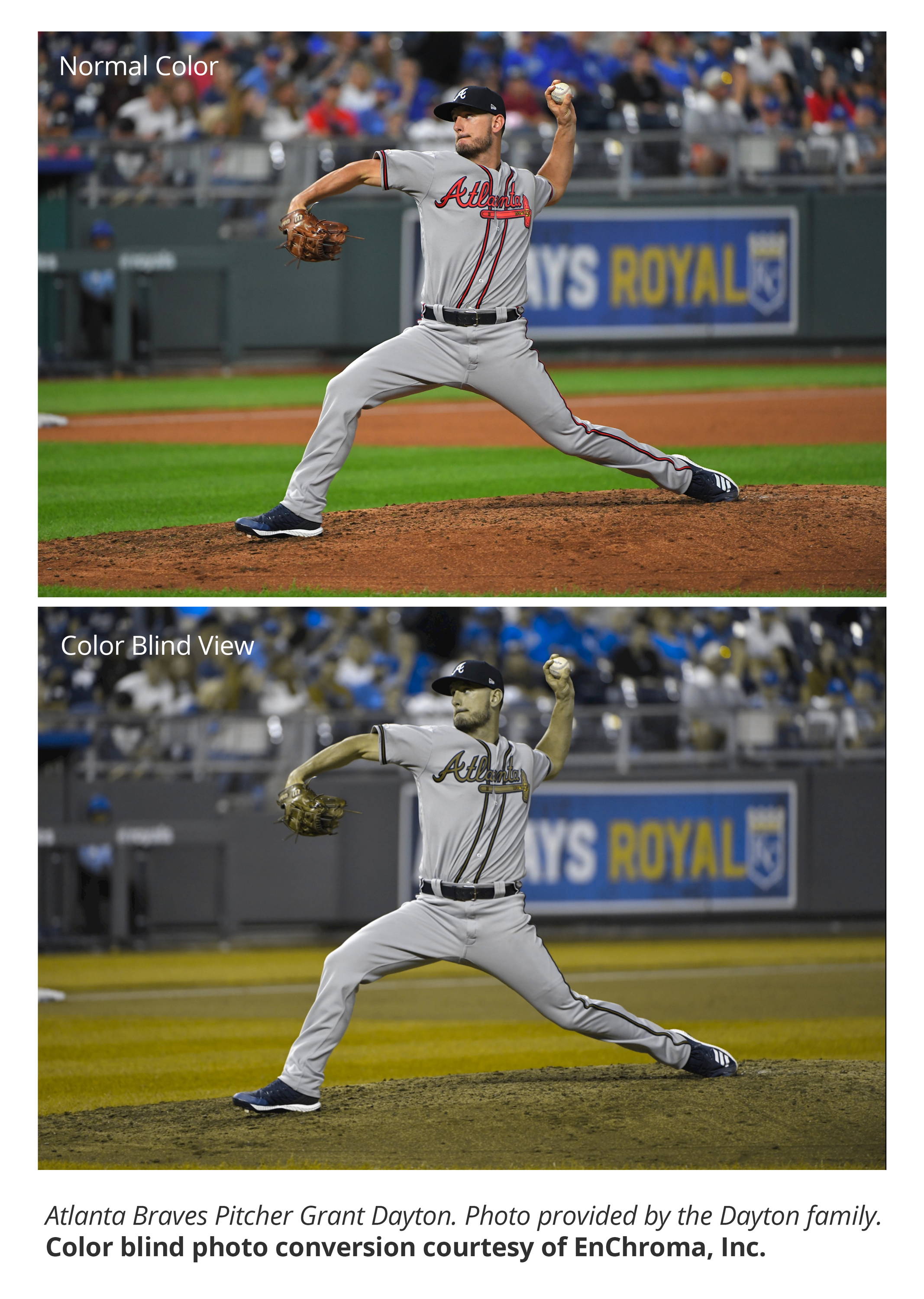 Color Blind in Sports
Many athletes, including NFL running back Christian McCaffrey and golfers Tiger Woods and Jack Nicklaus, are color blind. Grant Dayton, a color blind pitcher for the Atlanta Braves, recently saw a fuller color spectrum for the first time when his wife gave him a pair of EnChroma color blind glasses. He discussed his experience on MLB's Hot Stove TV show, and mused that he might have had a career as hitter if he'd gotten the glasses sooner. EnChroma glasses expand the range of colors visible to the color blind and make them more vibrant and distinct.
For John McKee, EnChroma color blind glasses provided him with a novel and life-changing advantage. After a two-year break, he started playing baseball again. "I remember the first time playing with them on and I can't describe it. Everything was there. The backstop and pitcher were two separate colors and objects. The baseball and the red stitches were easy to see. It was surreal," he said.
Last summer, he played for the Lumberjacks, a collegiate League team in Palm Springs. His .407 on-base percentage was one of the best on his team and in his career. He hopes to play professionally overseas, where players often are picked up by Korean League or MLB teams, and has fielded interest from some internationally-based teams.
While they can help color blind college and major league baseball players better see red stitches on a baseball or make a fly ball stand out more against a cloudy or blue sky, color blind electricians, aspiring-pilots, and workers in many other fields can use EnChroma glasses to achieve their short and long-term career goals more efficiently, effectively, and confidently. For employers, EnChroma color blind glasses are a reasonable accommodation that can enhance productivity and facilitate a culture of support and inclusion for red green color blind staff.