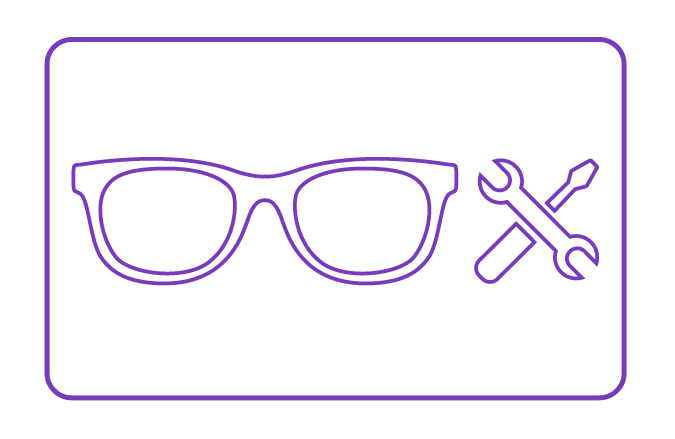 EnChroma Repair Service
---
NOTE: Repair services are currently running at a delay. We appreciate your patience.
EnChroma offers comprehensive repair service (US only) in case of accidental damage to your EnChroma lenses or frames. We provide repair services for glasses purchased through enchroma.com, and through any of our EnChroma Authorized Retailers. Here's how it works:
Purchase the EnChroma Repair Service. Repairs for kids glasses start at $95 and adult glasses start at $150. Fees are higher for prescription lenses as noted at checkout.

You will receive an email from us with information about the next steps.
IMPORTANT REPAIR PROCESS DETAILS:
Repair service is available for orders within three years from the date of purchase.

Repairs are backed with a 90-day warranty.

We may choose to replace the item instead of repairing it. If we need to replace parts, they may come from new or refurbished stock of equivalent or greater value.

When a pair of glasses is sent in for a repair and we choose to replace them, in the event that the product has been discontinued, we will provide the most similar available refurbished replacements from our current stock at no additional charge.

Our comprehensive repair service is for EnChroma-brand glasses only. 

We can't guarantee that your glasses are able to be repaired. We reserve the right to refuse a repair service order.

WARRANTY: All repairs will be evaluated for warranty coverage. If the repair is determined to be a manufacturer defect within 2 years of purchase, we will refund the repair fee.
An Important Note about Shipping
Make sure to insure your glasses for the replacement value when you ship them. EnChroma is not responsible for damage or loss of items being sent to us. If you have any questions, email us at repair@enchroma.com.